BookSomethingYo's Loc Extension Academy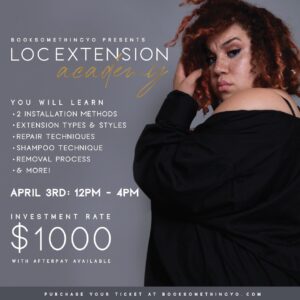 Are you ready for a permanent loc extension class? Now is your chance!
Secure your seat today for the April 3rd, 2022, class where you will learn proper loc-extension techniques, skills, have hands-on training, ask face-to-face questions, and leave with a Certificate of Completion to confidently begin your Professional Loc-Extension career.
Seats are limited! Sign up today to start your journey to becoming a Loc-Extension Guru. This course is $1,000 and your $300 non-refundable deposit reserves your seat. The remaining $700 is due at the beginning of class. Come ready to learn and tell a friend!
*Please note deposits are non-refundable so please be sure you are available for the allotted date.
You will learn:
-What kind of hair to use & why
-2 two ways to install permanent loc extensions
-The difference in extension types & style
-How to repair
-How to remove loc extension
-How to shampoo locs & more.
MUST KNOW HOW TO BRAID!!!
No Models.
Lock-Kit included
Light refreshments.
AFTER PAY IS AVAILIBLE